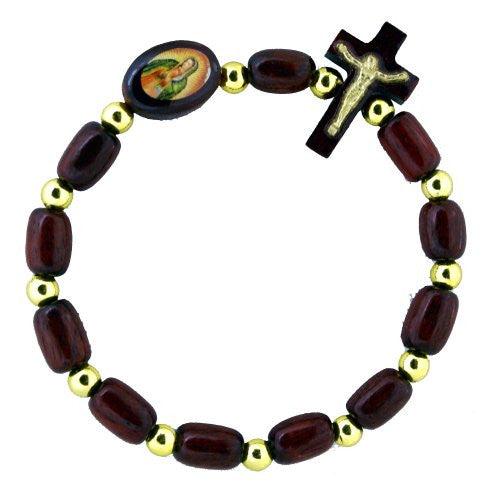 Decade Rosary Wooden Bracelet of Our Lady of Guadalupe
Add to wishlist
Gorgeous and unique wood rosary decade bracelet
Cherry wood beads with

Our Lady of Guadalupe

medallion and crucifix
Handmade in Brazil
High quality and excellent finish
Excellent favors for special events – Christmas, Birthday, First Communion, Weddings, etc
Decade Rosary Wooden Bracelet of Our Lady of Guadalupe Features:
• Solid, cherry wood elastic bracelet with Our Lady of Guadalupe medallion and crucifix. These cherry wooden beads and crucifix are naturally treated, and threaded with sturdy elastic string. This devotional bracelet is extremely durable and will last a lifetime.
• Devotional bracelet diameter: 2.5 inch (6.35 cm), Wooden Crucifix length: 1 inch (2.5 cm), Wood prayer beads 0.35 inch (9 mm), Guadalupe Medal: 0.55 inch (1.4 cm)
• Protector of the Americas, Our Lady of Guadalupe's appearance as "Mother of Mercy" has inspired faith in many. Wear this stylish bracelet to be reminded of Mary's protection. Wood beads bracelet stretches for comfortable fit.
• A genuine Catholic gift for anyone! Perfect for birthdays, Christmas, Easter Sunday, First Holy Communion and Mother's Day. Both men and women can wear as a devotional bracelet. Comes with Saint Benedict prayer cards.
Our Lady of Guadalupe (Spanish: Nuestra Seora de Guadalupe), also called the Virgin of Guadalupe (Spanish: Virgen de Guadalupe) and a 16th century Roman Catholic icon depicting an apparition of the Virgin Mary. It is Mexicos most beloved religious and cultural image. Our Lady of Guadalupe is known in Mexico as "La Virgen Morena", which means "The brown-skinned Virgin".
Our Lady of Guadalupes feast day is celebrated on December 12, commemorating the account of her appearances to Saint Juan Diego on the hill of Tepeyac near Mexico City from December 9 through December 12, 1531. The Virgin of Guadalupe is a cultural symbol of significant importance to the Mexican identity.