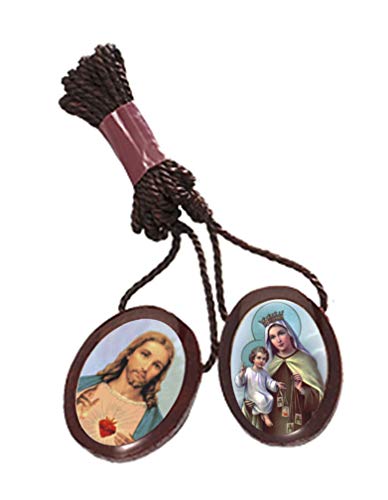 Pack of 6 pcs - Catholic Wear Wooden Brown Large Oval Shape Scapular Necklace
Previous
Next
Add to wishlist
Beautiful and authentic scapular necklace - packs of 6pcs or 24pcs
Necklace dimension: 14.5in L, 29 in long cord
Cherry wood religious gifts and jewelry
Handmade in Brazil
A perfect Catholic gift for any occasion
Catholic Wear Cherry Wood Oval Scapular Necklace Features:

•Solid, cherry wood Catholic scapular with epoxy images of Jesus and Our Lady of Mount Carmel. Handcrafted in Brazil by artisans with love and devotion. Sturdy nylon rope with naturally treated cherry wood. This scapular necklace is extremely durable and will last a lifetime.
• Scapular Length : 14.5 inch (37 cm), Escapulario Width: 13.5 inch (34 cm), Medal Size: 0.7 inch L (18 mm), 0.5 inch W (13 mm), Medal Thickness: 0.2 (5 mm), Escapulario catolico: 14.5 inch (37 cm)
• Scapular necklace that can be worn around the neck as a token of faith. Comfortable and lightweight to wear every day. Let this brown scapular be a reminder to have love and trust in the protection of Our Lady of Mount Carmel and Jesus.
• A genuine Catholic gift for anyone! Perfect for birthdays, Christmas, Easter Sunday, First Holy Communion and weddings. Suitable for men and women of all ages. Comes with a prayer card.
Since the seventeenth century, the Brown Catholic Scapular or Escapulario has been a universal Catholic devotion, considered to be, together with the rosary, a customary form of Marian devotional practice. The wearing of the Scapular Necklace fosters a true devotion to Mary that is based on her supernatural mission in the redemption of mankind.