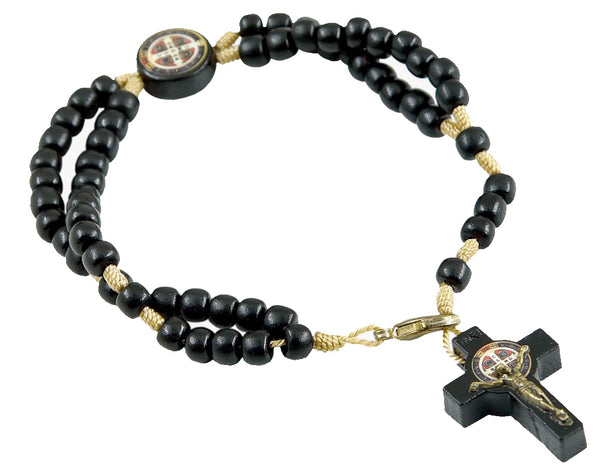 Saint Benedict Medal Black Wooden Beads Rosary Bracelet
Add to wishlist
Beautiful and authentic wood religious gifts and jewelry
Gorgeous and unique line of Saint Benedict jewelry and gifts
Rosarios Catolicos handmade in Brazill
Rosary turns into a religious bracelet
Excellent Favors for Special Events – Christmas, Mother's Day, First Communion, Weddings and more!
Saint Benedict Medal Cherry Wooden Beads Rosary Bracelet Features:

• Solid, black wood mini rosary beads bracelet with St. Benedict crucifix and medallion junction. St. Benedict Medal embedded on both sides of crucifix and medallion. Handcrafted in Brazil by artisans with love and devotion. These cherry wooden beads and cross are naturally treated, and knots are tied sturdy. This St. Benedict bracelet is extremely durable and will last a lifetime. Comes in multiple colors.
• Decades Length: 9 inch (23 cm), Rosary Bracelet Diameter: 3.5 inch (8.9 cm), Wooden Crucifix Length: 1 inch (2.5 cm), Wood Beads Size: 0.15 inch (4 mm), Our Father Beads Size: 0.28 inch (7 mm), Center Medal: 0.47 inch (1.2 cm)
• Feel blessed adorning St. Benedict around the wrist or in a pocket rosary. This St. Benedict mini rosary easily turns into a beautiful rosary bracelet with clasp. Its rich symbolic medallion calls upon God to protect our bodies and souls from evil. The Benedictines consider this medal effective in asking for inner harmony and healing those suffering from infectious diseases.
• A genuine Catholic rosary bracelet to gift anyone! Perfect for birthdays, Christmas, Easter Sunday, First Holy Communion, Mother's Day and wedding favors. Suitable for both men and women of all ages!
St. Benedict Bracelet is a shimmering reminder of Jesus Christ's great sacrifice for all of us, according to the Saint's Prolog of his Rule. This shiny piece can also serve as a prayer of exorcism against Satan, a prayer for strength in time of temptation, a prayer for peace among ourselves and among the nations of the world. Bracelets of Saint Benedict are sacramentals that may be blessed legitimately by any priest or any deacon.