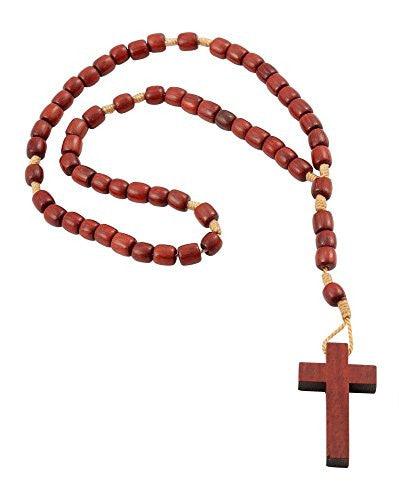 Cherry Wood Catholic Rosary Beads with Cross for Prayer
Add to wishlist
Beautiful and authentic religious gifts
Solid cherry wood rosary
Sturdy and resistant so you can carry it anywhere
Made in Brazil
Great keepsake and token to keep inside the wallet, purse, car, etc.
Excellent Favors for Special Events – Christmas, birthday, First Holy Communion, weddings and more!
Solid Cherry Wood Rosary Features:

• Solid, cherry wood rosary beads with wooden cross. Handcrafted in Brazil by artisans with love and devotion. These cherry wooden beads and cross are naturally treated, and knots are tied sturdy. This rosary is extremely durable and will last a lifetime.
• Decades Rosary Length: 13 inch (33 cm), Drop Length: 6 inch (15 cm), Wooden Cross Length: 2.5 inch (6.3 cm), Cherry Wood Beads Size: 0.24 inch (6 mm)
• Simple yet graceful rosary that can be with you at all times. This rosary can be conveniently reached at any time to feel the comfort of God. Let this rosary hang from your wrist as you feel God's alignment in each prayer counted.
• A genuine Catholic rosary to gift anyone! Perfect for birthdays, Christmas, Easter Sunday, First Holy Communion and Father's Day. Suitable for men and women of all ages. Comes with a prayer card.