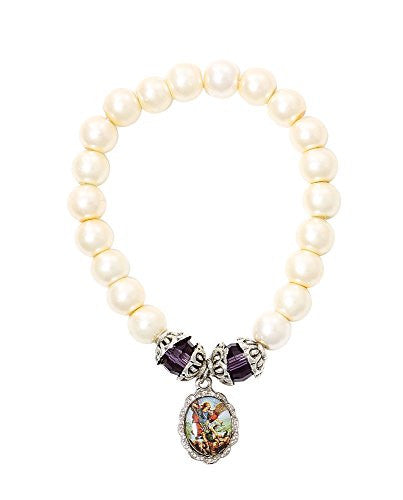 Saint Michael Medal Oval Pendant Bracelet with Glass Simulated Pearls Beads - 2.5 Inch.
Devotional Saints Bracelets
Add to wishlist
St Michael is considered in many Christian circles as the patron saint of the warrior. Police officers and soldiers, particularly paratroopers, regard him as their patron saint. Roman Catholics refer to him as Saint Michael the Archangel and also simply as Saint Michael ("Saint" is a title meaning "holy", and is not meant to indicate that Michael is a human soul in heaven). Orthodox Christians refer to him as the Taxiarch ("Commander") Archangel Michael or simply Archangel Michael.
Saint Michael Medal Oval Pendant Bracelet with Glass Pearls Beads Features:-
Gorgeous and unique line of Religious Jewelry and gifts
0.71" Long St. Michael's Medal
Part of a new collection
Stretchable Bracelet
Sturdy and Wearable
7.5mm Glass Simulated Pearls with Amethyst Color Crystal
Excellent quality and workmanship
This bracelet is fashion among all
Excellent Favors for Special Events – Christmas, Birthday, First Communion, Weddings, etc