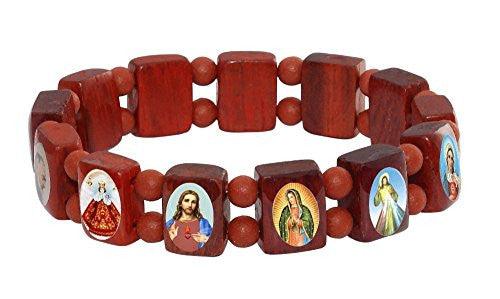 Elasticated Cherry Wooden Catholic Saints Bracelet Small Images of Jesus, Mary and Saints with Wood Beads Spacer
Add to wishlist
Wooden Catholic Saints bracelet
Small square panels cherry wooden bracelet with wood beads spacer
Assorted Catholic images of Jesus, Mary and Saints
High quality and excellent finish
Made in Brazil
Excellent favors for special events – Christmas, birthday, First Holy Communion, weddings, etc
Small Square Assorted Catholic Saints Bracelet Features:

• Solid, cherry wood elasticated Catholic bracelet with assorted images of Saints on small square wood panels. Wood beads act as spacers between epoxy images of Jesus, Mary and other Catholic Saints. These cherry wooden panels are naturally treated, and threaded with sturdy elastic string. This devotional bracelet is extremely durable and will last a lifetime.
• Saint's bracelet outer diameter: 3.5 inch (9 cm) inner diameter: 2.5 inch (6 cm), Squared wood size: 0.5 inch (1.3 cm) x 0.2 inch (0.5 cm) x 0.2 inch (0.5 cm)
• Seek the intercession of these Saints whenever you wear this devotional bracelet. Wear this trendy bracelet to be reminded of their exemplary lives in union with Christ. Stretches for proper and comfortable fit.
• A genuine Catholic bracelet to gift anyone! Perfect for birthdays, Christmas, Easter Sunday, First Holy Communion, Mother's Day and wedding favors. Suitable for both men and women of all ages!